Do you want to know the fastest way to get more Twitter followers and how to Twitter your strategies automatically? Here is how to build a highly targeted list of real people and how to Twitter automatically including the process of targeting, following, setting up automated alerts whenever someone mentions you, and the best Twitter tools to organize and manage Twitter followers.
1. Truetwit.com is a great way to automate following real people. One of the problems with Twitter is the fact that there are a multitude of spammers using fake Twitter bot (robot) accounts. If you want to get some of the best Twitter followers, you need to sign up for Truetwit which is a free service. Many Truetwit users require Truetwit validation or they will not follow you. These are the type of people I want to follow me. So I signed up, verified that I was a human, and I set my account to auto-follow all Truetwit accounts that followed me.
2. Do you want to receive a quick update when anyone @ mentions you on Twitter? Just sign up at Twistra.com and they will send you an email whenever anyone mentions you.
3. TwitterCounter.com is one of the best Twitter tools to see who the most influential Twitter users are. The default view shows the top users by total Twitter Followers but you can sort by the number they are following and total tweets. You can look up your own Twitter Stats and global follower rank. Rank is the total number of Twitter followers against all active Twitter users as wells as track growth of your account and make your own Twitter count widget for your blog. I want to discuss one very practical discovery I made with this site.
When I first started using Twitter, I used this site to find some of the most influential Twitter Business users by follower to see how they use Twitter for business so I would know how to Twitter like them. What I found is that most of the business users with the highest follower count were quite famous and did not build their following through social networking expertise. They already had a huge following from their books, email list, RSS feed, etc that they just transferred over to their Twitter account. The one takeaway I did see was that these business celebrities were very active on Twitter. If you want to succeed on Twitter then post regularly.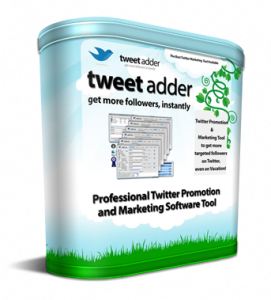 4. Tweet Adder excels at building a highly targeted list of Twitter followers and users and doing it automatically. Once you build the list of highly targeted Twitter users with the Tweet Adder search engine, you can download the entire list so Tweet Adder can automatically follow your targeted list for you. Here are the ways you can find a targeted list for your niche with their powerful and simple search engine:
Keyword
Location
Location and Keyword
If you have found some specific Twitter users who are leaders in your niche, and you have a global business, Tweet Adder can also automatically download the Twitter followers of a specific user and then follow them automatically. You can configure how many Twitter followers it follows at a time by number or ratio. Then you can set up times to run these tasks in the background. If you want to build up a highly targeted list of real Twitter followers and you are not a celebrity already, Tweet Adder is indispensable. Tweet Adder also automates unfollowing those who do not follow you back, scheduling future tweets, and many more features. Tweet Adder is one of the best Twitter apps and the only application I recommend that you will have to buy. But it will pay you back the first day you use it by automating hours of your time and building a large list or real, targeted followers in weeks.
5. Are you overwhelmed or confused as to how you should manage your Twitter followers, see only the updates you want, and tune out the noise? Seesmic is the easiest way to start using Twitter today. And since it integrates all the major social networking sites into the application interface, you can manage Facebook, Google Buzz, Google Reader, Evernote, or post updates to all these sites plus many more (including all of the Ping.fm social networking and bookmarking sites) all from the Seesmic application.
I use the Seesmic desktop and Blackberry web apps to manage Twitter and all my social networking accounts in one application. The reasons I use Seesmic instead of Tweetdeck are:
Seesmic has Blackberry, iPhone/iPod/iPad, Web, and Desktop easy-to-use applications. Tweetdeck does not offer a Blackberry app.
Seesmic integrates all social networking into one application seamlessly primarily because they own Ping.fm. You can manage Twitter, Facebook, Ping.fm, LinkedIn (post to dozens of social networking sites automatically), save to Evernote, use Google reader, and any social networking site you need either directly from Seesmic or via Ping.fm.
Seesmic just runs faster than Tweetdeck.
In summary Seesmic is the fastest, easiest to use, and most comprehensive Twitter and social media management tool available, whether you are using Twitter for business or personal tweets. I still cannot believe it is a free application. Go to seesmic.com and start using it to simplify your Twitter management. Enjoy using Twitter in their intuitive interface and when you are ready, you can start viewing, posting in one click, and integrating Twitter with all of your other social networking and bookmarking sites in one application.