The best business apps or those that help make your business easier!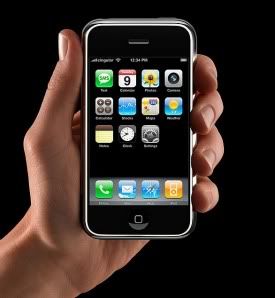 We know there's no shortage of "essential" iPhone apps out there and it's all too easy to bog your phone down with task managers and to-do apps that frankly, end up simply taking up space. Yet there are plenty of apps out there well worth price and space you're giving up.
Freelancers, small business owners, retailers and sales people should heed the call: you need these apps for staying ahead of the curve and on the move. Here are the five top apps for transcribing, selling, accounting and all things business.
The 5 Best Business Apps
5. Jott
The Jott isn't your average voice recording app. You'll love the vintage looking reel-to-reel graphic that pops up on screen, but function really meets fashion with this one. Jott is great for recording voice notes and will even transcribe those notes to text so you'll have a written record to either archive or email notes to your cohorts. Jott also makes t easy to categorize and group your recordings. This is the app to have when inspiration strikes, wherever you happen to be.
4. QuickBooks Online
The QuickBooks Online iPhone app allows users to connect with the online accounting software from anywhere. This app will let you track invoices, check bank and credit card balances and store contact information for clients. You can even view profit and loss reports with this one. QuickBooks Online is well worth the price and space. What most users really love about this app is its super-sleek UI, which is prime material for showing off to friends and business associates, but the ease and functionality will have you just as hooked on the features as you are on the looks.
3. Square
If you're in retail, particularly of the mobile variety, you can't do without Square. This app allows users to take credit card payments and Square will even mail you a swiper to plug right into your phone. It's like having a cash register in your pocket, assuming most of your customers don't actually pay with cash, which is a pretty safe bet. This app will also help out with the accounting side and deposit funds right into your bank account every day.
2. Pocket Punchclock
This app is a godsend to anyone who works on a freelance or contract basis. Pocket Punchclock will track the amount of time you spend on any given task and create timesheets so you know exactly how much to bill every client. This app will record exact time and even track your GPS location to help you bill for mileage. This is the only app for multitasking freelancers who find themselves darting all over town to meet with clients. If you are charging by the hour for services, this is one app that won't just eat up memory.
1. Salesforce
Salesforce.com has a beautifully presented and easy-to-use iPhone app that will collect customer and sales data. Accounts, leads and opportunities are all tracked and ready to view in color-coded graph form that will impress any current or potential client. The newest version has all the presentation bells and whistles, but also supports more content, such as sales literature. This one comes in a "lite" version and the full-service blow-your-mind version of this one is available to anyone with an Unlimited Edition or Mobile license from Salesforce.
What do you think are the best business apps on the iphone?
Join the discussion by leaving a comment below and please spread the word by sharing this post with your friends.
Stay up to date on our latest posts by liking us on Facebook, following us on Twitter, circling us on Google+ or by subscribing to our RSS Feed.
Image Credit – Best Business Apps